😎If you are fed up with the old toilet brush and ruin the look of the sleek bathroom, you can go for ours 😎
Our toilet brush is compact in size, no matter how small it is, every bathroom has a suitable toilet brush. With our toilet brush, your bathroom will look beautiful and offer you a pleasant cleaning experience! We have 4 colors to choose from.
Features and Benefits:
Efficient Cleaning
Better deepened the cleaning of the gap, can go deep into pipes and grooves, better reach to some dead corner or under-rim section.
TPR Brush Head
It is moderately soft, can be bend freely, will not scratch the toilet even if the brush head cleans the toilet with great force. It can also easily be cleaned, you don't need to worry about the cleaning problem after using the brush.
Individual Holder
It solves the problem that the toilet brush has nowhere to place or the toilet brush cannot keep the bathroom clean and hygienic.
Reduce Odor
There is a cover where the brush head meets the handle, when you put the brush into the holder, it can block inner smell out, leave no unpleasant odors in your bathroom.
Breathable Holder
The holder is detachable and with slots allow water and sewage to evaporate quickly, it allows the toilet brush to dry and drain more easily.
Non-slip Handle
The handle is ergonomic that fits in your hand perfectly, humanized handle keep away from slip and bending.
Bathroom Decor
You can hang it on the wall without drilling holes, or you can place it directly on the floor. With its fashion and simple looking, it can go with any style of bathroom.
SPECIFICATION:
Material: 

TPE + PP

Packing size:

 14 x 3.9 x 2.3 inches

Type: Standing type; hanging type
Weight: 175G
Clean every corner of the toilet bowl.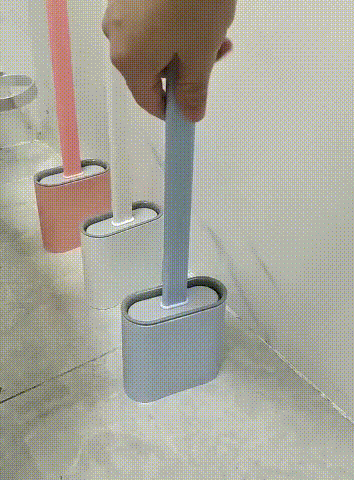 The flat toilet brush head has better toughness than regular ones.
The brush head can be bent freely, making it easy to clean the gap and dead corner, such as the under- rim section.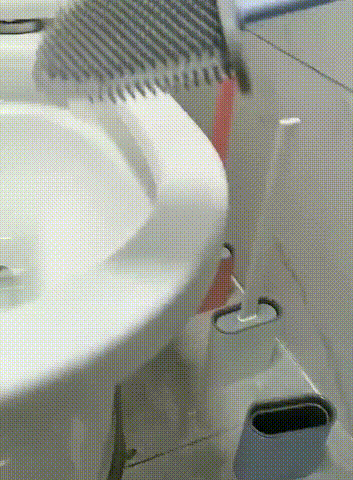 The brush fits neatly into the hanging holder, making storage simple and saving the space in the washroom.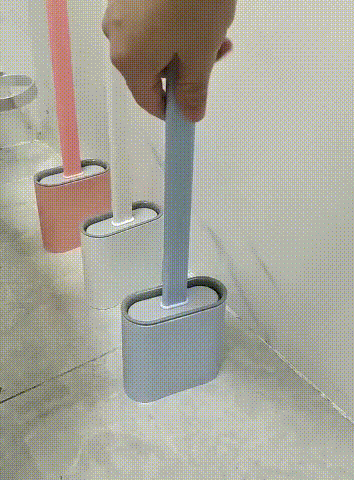 Silicone bristles can protect the toilet bowl from being scratched.
The ventilation design of the holder makes the toilet brush drain quicker and more hygienic.
It can also be used to clean sinks, washbasins and bathtubs.
Hole-free wall-mounted design makes installation easier.
PACKAGE INCLUDED:
2*

Cleaning brush

2*  Storage holder