Does your house seem pretty dark? Want to add more light? We offer Ice backlighting, which allows you to easily add lighting even to the densest corners of your home.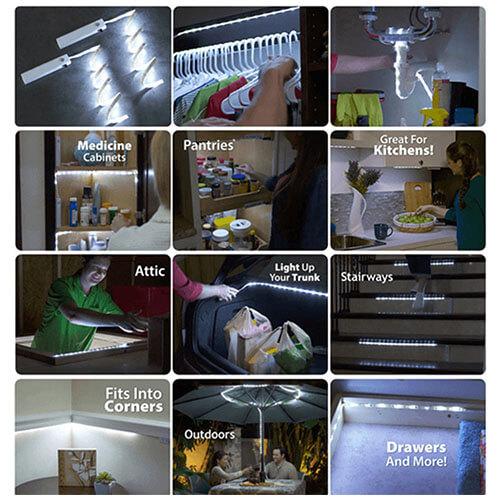 It consists of 2 LED strips that can take any shape, depending on your needs. Enjoy fast and efficient lighting in an easy and efficient way, without the need for tools, with Flexible LED Light Strip! The Flexible LED Light Strip set is easy to install where you need: garage, closet, kitchen, closet, trunk, etc. Just detach the adhesive tape, stick the LED strips and turn them on (each tape needs 3 AAA batteries, not included).
Additional Information:
Flexi Lites Stick N Slick - It fits perfectly into curved areas or difficult angles - Self-adhesive adhesive system - ultra-thin, discreet design - 9 ultra-bright LEDs for each band - LED lifetime: over 100,000 hours - 3 AAA batteries are used for each strip operation - Band length: 2 x 30.5cm
Ice backlight
To install the Flexible LED Light Strip, you need to remove the adhesive tape, and then apply the Led backlight to the desired area. Then simply press the button on the controller to turn the light on or off.
Led lighting in the Flexible LED Light Strip cabinet has a compact size and thin design, which allows you to install it where other conventional lighting products simply do not fit. Despite its subtlety, Flexible LED Light Strip is bright and can last up to 100,000 hours.